GET A FREE DELIVERY ON ORDERS OF $750
SAVE WITH DIY WEDDING FLOWERS
A SWEEPING VARIETY OF THE MOST BEAUTIFUL FLOWERS
By Popular Demand You Floral Is Now Available In All 52 States.
As you might imagine, the price for quality blooms has hit record highs, but here's a better solution. You can save money and have fun by doing your own wedding flowers and having them shipped to you anywhere in the USA.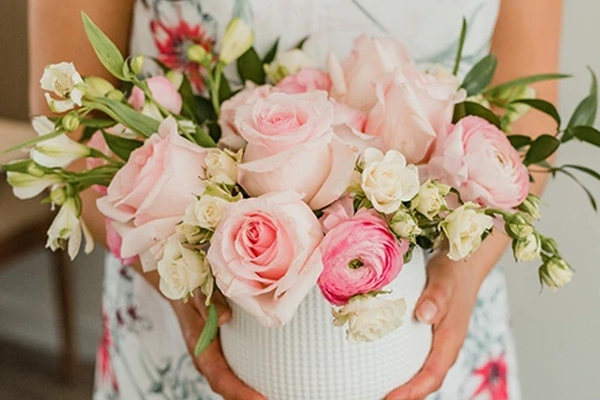 You Floral is the leader in bulk wholesale flowers, whether you're looking to DIY for your wedding, anniversary, or just to be creative – we've got you covered! Our florist grade blooms are guaranteed to be beautiful, fresh, and high quality, we source the best quality flowers and greenery from around the world!
We have an extensive offering of dried flowers, perfect to breathe life into your home decor, or as a statement piece at your wedding. These beautiful dried flowers last a lifetime, and will elevate any space you place them in.
Our huge selection of fresh greenery ranges from eucalyptus to pittosporum, and everything in between! Our greenery is fresh and luscious, sure to elevate any floral design you create.
Save Money
DIYing can be a fraction of the cost of traditional florists and frees up cash for other areas of your wedding budget! (Get that dream dress!)
Quality
The flowers come to you straight from the wholesaler, no sitting in the grocery store languishing away!
Convenience
Enjoy the ease of having your flowers delivered right to your doorstep!
Us
When you buy from us, you get quick responses, helpful advice, and you support a small business. We care about making your day perfect!
Shop
online and view our latest collections

Need Help?
our staff are always ready to help you
Jenna Raider Skidmore
January 13, 2023.
I received one of Sarah's dried floral arrangements recently and I just adore it! Her delicate design and thoughtful placement of each lovely stem make her bouquets so original. Gorgeous work!
Richard Bell
December 1, 2022.
Wonderful service and beautiful flowers.
Hannah Froese
November 29, 2022.
Amazing Floral Shop! I was a bit nervous ordering online for my wedding day, but in the end I had nothing to worry about. The website is user friendly and I got exactly what I wanted. The arrangements took awhile to make, but it saved me so much money in the end. Plus, I enjoyed designing my own bouquets. Sarah was fabulous
Becca Fuller
November 14, 2022.
DIY wedding flowers is absolutely the way to go. It was cost effective, plus we were provided with a ton of resources on not only how to put the bouquets together, but also how to receive and care for the flowers leading up to the wedding. The girls and I had a ton of fun putting together the bouquets and despite maybe not being the most crafty people, they all turned out beautifully. We had so many flowers and so much greenery. More than enough for a bridal bouquet, 5 bridesmaid bouquets, a corsage, 5 boutionnieres, and tons of extras as spares to use around the venue as decor. We went with the "Champagne and Silk" package, and I supplemented it with burgundy carnations and cream colored roses. Sarah was also fantastic to work with when it came to answering any questions I have. Their customer service was top notch. Highly recommend!
Highly recommend to anyone looking to get creative and save some money on your special day! We had a micro wedding and found flowers were going to be one of our largest costs, the flowers arrive two days prior to the wedding date and came in great condition. The website does specify that there are bound to be some flowers in not the best shape but I found this to not be the case and they all held up fine with the exception of a couple flowers. We followed all the care instructions online and were able to make centerpieces, bouquets and table runners. Great experience overall
Christina Schaefer
October 30, 2022.
We are so extremely happy that we went with You Floral for our wedding. Given the price of wedding's these days we wanted to make our own centerpieces and bouquets but had no idea where to start. Sarah had a one-on-one session where she helped me design the perfect bouquet from a single Pinterest photo. She was professional, organized, and the prices were extremely reasonable. The DIY videos she provided helped us make professional grade bouquets and the flowers arrived in perfect shape. I would highly recommend You Floral to anyone!
Kylie Hornaday
October 25, 2022.
Very pleased with our service at you floral. We had a large wedding (200+ people) but I LOVE flowers, I was able to have my dream of having a venue full of flowers without totally breaking the bank. I did buy some filler basic florals from costco and used the stems from YouFloral to add interest. Communication was the team was easy, and they contacted me about substitutions etc as needed and made great suggestions. The flowers were delivered right on time (I was nervous as they were being sent to a semi-rural venue) and every stem was perfect - so beautiful! Much better selection than many budget-friendly floral companies. I've already put in a new order for my next event!
Leah Johnston
October 21, 2022.
Used for my August wedding and was thrilled with the result. The flowers I received were all beautiful with almost no damages from shipping. They held up very well from delivery on Wednesday through to wedding on Saturday. Sarah was very helpful and easy to deal with, adding additional varieties to my order and checking in on delivery. Would highly recommend! I have zero floral experience and was very happy with the outcome!
Jen Casey
October 12, 2022.
We had our wedding out of town and the flowers arrived a couple days early, just as promised. Sarah was kind enough to contact me with instructions on how to care for them in our hotel for the time leading up to the wedding. Everything was perfect. Thanks for the wonderful service!
Danica Cartier
October 6, 2022.
You floral was an amazing company to work with. Not only was I able to create some beautiful arrangements for my wedding, but I was also able to put in a last minute order which they were happy to accommodate. There is a wide variety of options available and they arrived in perfect condition. Sarah was able to respond to all of my requests and questions in a timely manner and brought my vision to life in a cost-effective way!
EXPLORE OUR WIDE SELECTION OF FLOWERS
FOR YOUR PICTURE-PERFECT WEDDING
Our Latest News & Articles
get expert tips, inspiration & more on our blog
Bright and Mirthful Photoshoot I am always keen to make floral magic... So when Teresa (from Teresa Saunders Photography) approached me, asking if I was interested in a floral collab... I was immediately HECK YES. Teresa is brand new to Victoria BC, she came from...
A Repeat Romance, You Floral Dominates in The DIY Wedding Flower Industry For Third Year Running
We are absolutely delighted to share the news that Our Floral has been awarded the title of Online Florist of the Year for a consecutive two years! This prestigious honor acknowledges the pinnacle of the online flower business, and speaks to the caliber and innovation of our products and services. We owe this accomplishment to our devoted customers, and we are enormously thankful to the more than 300 couples and families who trusted us to provide the flowers for their special occasion. We will persistently strive to surpass your expectations and create even more beautiful weddings.
Please let us know how we can help you