GET A FREE DELIVERY ON ORDERS OF $750
SAVE WITH DIY WEDDING FLOWERS
A SWEEPING VARIETY OF THE MOST BEAUTIFUL FLOWERS
By Popular Demand You Floral Is Now Available In All 52 States.
As you might imagine, the price for quality blooms has hit record highs, but here's a better solution. You can save money and have fun by doing your own wedding flowers and having them shipped to you anywhere in the USA.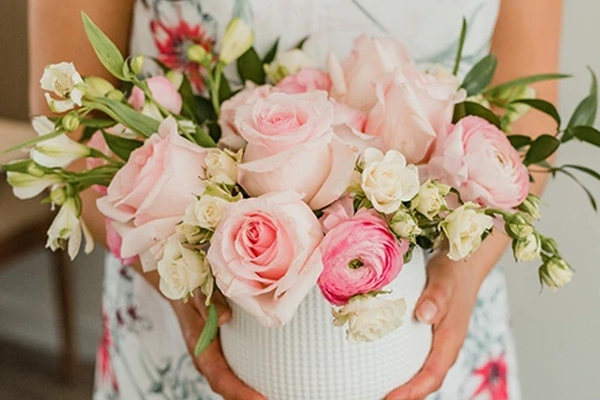 You Floral is the leader in bulk wholesale flowers, whether you're looking to DIY for your wedding, anniversary, or just to be creative – we've got you covered! Our florist grade blooms are guaranteed to be beautiful, fresh, and high quality, we source the best quality flowers and greenery from around the world!
We have an extensive offering of dried flowers, perfect to breathe life into your home decor, or as a statement piece at your wedding. These beautiful dried flowers last a lifetime, and will elevate any space you place them in.
Our huge selection of fresh greenery ranges from eucalyptus to pittosporum, and everything in between! Our greenery is fresh and luscious, sure to elevate any floral design you create.
Save Money
DIYing can be a fraction of the cost of traditional florists and frees up cash for other areas of your wedding budget! (Get that dream dress!)
Quality
The flowers come to you straight from the wholesaler, no sitting in the grocery store languishing away!
Convenience
Enjoy the ease of having your flowers delivered right to your doorstep!
Us
When you buy from us, you get quick responses, helpful advice, and you support a small business. We care about making your day perfect!
Shop
online and view our latest collections

Need Help?
our staff are always ready to help you
Tiffany Shelswell
June 29, 2023.
You Floral was the obvious choice for our wedding florals; my aunt is a florist in Europe and her gift to us was to do all of the bouquets and arrangements. The website made it possible for us to communicate about what to order even though we were continents away from each other! I wanted a simple colour palette with lots of different textures and You Floral had a huge amount of variety available. The ordering process was easy, communication was clear, and the flowers came in impeccable shape - and they stayed flawless for many days after the wedding. I had so many compliments on the bouquets and everyone asked which florist I'd gotten them from! It felt so good to be able to point to my aunt and say "Silvia!". (photo by Hayley Zumkeller Photography)
Melissa Keil
June 23, 2023.
Our team had a great time with Sarah and her DIY floral workshop
Lexis Lane
June 16, 2023.
As a wedding photographer on Vancouver island I get SO excited when I see Sarah's beautiful work at weddings. Her talent and passion towards florals is remarkable and she is so kind, patient and professional. I love to recommend her work to my wedding clients and I'm confident she will always do such a great job.
Bryce and Danielle Alliston
May 10, 2023.
You Floral held such a fun floral workshop at Sea cider I got the pleasure of doing with my mom and grandmother for Mother's Day. I would highly recommend their workshops to anyone and even attend another in the future.
Julia Harrison
May 8, 2023.
So much fun! My mom and I had a blast putting together these bouquets! Looks a lot easier then it actually is, but it was wonderful, highly recommend 🙂 Thanks so much YouFloral!
I attended a workshop with YouFloral to learn how to make a spring spiral bouquet and it was so fantastic! The workshop was held at Sea Cider, which is a beautiful and bright space with ocean views. We were welcomed with cider mimosa's and the cutest sugar cookie was displayed at our seat. We were provided a demo and instructions on how to create a spring spiral bouquet. I have always felt like a creative person and have struggled with floral arrangements in the past. I definitely have the insight now on how to create a beautiful floral arrangement. The blooms and greenery provided were stunning and plentiful. There were 3 instructors to offer us support while we were arranging the flowers, and help tie and wrap the bouquets (most of which were pretty giant). I will be enjoying my floral arrangement for the days to come. My family members are definitely impressed with my new skills. 😉 What a wonderful way to spend a Saturday morning. Thank you, You Floral!
Alexa Rose
April 29, 2023.
Definitely would recommend this distributor for your wedding florals. We ordered over 100 roses for our wedding. They arrived in excellent condition and it was easy to rehydrate them. Sarah is a wonderful human who has a wealth of knowledge. She helped me put together a bridal bouquet completely composed of piano garden roses.
Konner Sloat
April 24, 2023.
I had an amazing experience with You Floral. From the initial call for details right up until delivery everything went smoothly and the flowers were beautiful!
EXPLORE OUR WIDE SELECTION OF FLOWERS
FOR YOUR PICTURE-PERFECT WEDDING
Our Latest News & Articles
get expert tips, inspiration & more on our blog
Bright and Mirthful Photoshoot I am always keen to make floral magic... So when Teresa (from Teresa Saunders Photography) approached me, asking if I was interested in a floral collab... I was immediately HECK YES. Teresa is brand new to Victoria BC, she came from...
A Repeat Romance, You Floral Dominates in The DIY Wedding Flower Industry For Third Year Running
We are absolutely delighted to share the news that Our Floral has been awarded the title of Online Florist of the Year for a consecutive two years! This prestigious honor acknowledges the pinnacle of the online flower business, and speaks to the caliber and innovation of our products and services. We owe this accomplishment to our devoted customers, and we are enormously thankful to the more than 300 couples and families who trusted us to provide the flowers for their special occasion. We will persistently strive to surpass your expectations and create even more beautiful weddings.
Please let us know how we can help you